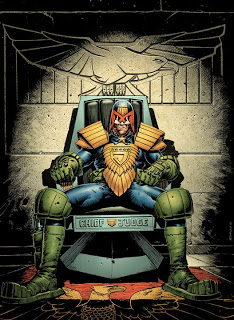 Chief Judge is the title given to the head of state of Mega-City One and is the highest rank in the Justice Department. Most of them have had Deputy Chief Judges, stepping in if the Chief is killed, incapacitated, or away. In reforms started by Volt, they will only be acting-Chief Judge until confirmed by a senior Judge vote.
It is also the most commonly used term for a head of state across the world. This started when each mega-city in the United States gained an autonomous Justice Department and Chief.
Equivalent terms have included Chief Justice (Brit-Cit), Supreme Judge (Sov Block), Shogun Judge (Hondo), Chief Inspector (Cal-Hab), and Judge Supremo (Ciudad Barranquilla), though they have also used the term "Chief Judge" anyway. Luna-1 has a Judge-Marshal. In early strips, the MC-1 title was Grand Judge and IDW's comics they have been called Chief Justice.
Mega-City One
Edit
List of Chief Judges
Edit
List of Chief Judges
Name
Term
Notes
Eustace Fargo
2031 - 2051
Chief Judge Eustace Fargo was the founder of the Judge System
Hollins Solomon
2051 - 2057
Judge Solomon had previously served as Deputy Chief Judge under Fargo.
Clarence Goodman
2057 - 2100
Judge Goodman had previously served as Deputy Chief Judge under Solomon. Longest serving Chief Judge to date.
Cal
2100 - 2101
Judge Cal had previously served as Deputy Chief Judge under Goodman.
Griffin
2101 - 2104
Judge Griffin was the first to become Chief without being part of the previous government. He seized power in a rebellion against Cal.
Hilda Margaret McGruder
2104 - 2108
Judge McGruder was part of Griffin's Council of Five, and the only member still alive after the Apocalypse War.
Thomas Silver
2108 - 2112
Judge Silver was voted to be Chief by the Council of Five.
McGruder
2112 - 2116
First Chief Judge to serve a second term.
Hadrian Volt
2116 - 2121
First Chief Judge to be voted for by senior Judges.
Barbara Hershey
2121 - 2131
Judge Hershey served as Deputy Chief under Volt. Position confirmed by vote.
Dan Francisco
2131
Elected in a referendum against Hershey.
Martin Sinfield
2131 - 2132
Served as acting Chief Judge only
Francisco
2132 - 2134
Hershey
2134-2141
Given power by Francisco when he stepped down, with no vote to confirm her position. She resigned when she was diagnosed with a terminal illness, and was voluntarily euthanised shortly afterwards.
Logan
2141-
Incumbent. Nominated by Dredd and Hershey.
Elections
Edit
The first election took place after McGruder stepped down the first time but this was due to exceptional circumstances: the Council of Five was entirely comprised of new members. They voted among themselves for Silver as Chief Judge. It was when McGruder stepped down the second time that the first election among senior Judges was allowed.
Under Volt's reforms, every Chief Judge has needed to be confirmed by vote. If Judges are unhappy with the current leader, a formal petition can start an election for a new one.
Elections so far have seen:
Winner: Volt (208 votes)
Defeated candidates: Dredd (130), Herriman (49), Hershey (13), Plaski (withdrew).
Winner: Hershey
Defeated candidate: Loblaw
Winner: Francisco
Defeated candidate: Hershey
Election aborted
Candidates: Sinfield, Dredd
Foreign cities
Edit
Named bosses
Brit-Cit: Chief Justice Willink (2124), Chief Justice Leavy (2126)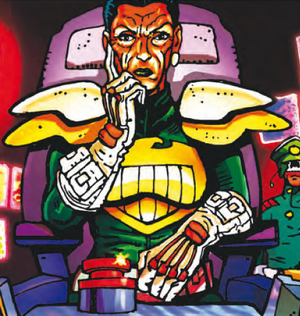 Murphyville: Chief Judge Maginty (at least 2113 to 2114), Chief Judge Krilly (2126), Chief Judge Stephen McGann (2137)
Oz: Chief Judges Bob (at least 2110 to 2112), Bruce (2126), Keith (2126), Barnett (2140)
References
Edit
↑

First mentioned in prog 1452, set 2127; a different looking, unnamed Judge Supremo was shown in the Megazine the same year

↑

First-year anniversary in Megazine 300, set in 2132

↑ Deren and Kennedy from IDW's Mega-City Two: City of Courts, which was deliberately written so it could be in continuity with 2000 AD
Community content is available under
CC-BY-SA
unless otherwise noted.