Barbara Hershey

Biographical information

Gender
Female
Family
Unknown
Postion
Chief Judge
Affiliation
Mega-City One Justice Department

Academy of Law

Alignment
Good
Status
Alive
Cause
N/A

Behind the Scenes

First Appearance
Judge Dredd
Latest Appearance
Judge Dredd
Portrayed by
Diane Lane
Judge Barbara Hershey was portrayed in the 1995 film Judge Dredd by Diane Lane. The film drew criticism from fans of the comics because of one scene in which Hershey kisses Dredd, something which would not happen in the comics.
Hershey is a newly graduated Judge who has been a Street Judge for only a year and is shown to have a more sympathetic attitude to perps than her colleague Judge Dredd. Also in contrast to Dredd, she has a personal life and friends outside of work.  When Judge Dredd is accused of a murder he selects Hershey as his defence because he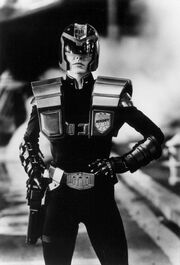 thought that "she was at the top of her class in interpretational law" and she appears to be the nearest thing he has to a friend. She failed to defend Dredd and he is sentenced for the crime on DNA evidence.
Afterwards, she stubbornly continues to investigate Dredd's case and uncovers the Janus Project - a secret cloning program that the Council of Five initiated forty years previously that created Dredd and Rico Dredd from Chief Justice Fargo's DNA. Hershey and Dredd discover that the Janus Project has been reinstated by Rico and the pair manage to defeat Rico and prevent the evil clones from taking over the city. After Dredd's name is cleared, the remaining Judges ask him to become the new Chief Justice, but Dredd refuses, preferring to remain a Street Judge. Hershey kisses him goodbye as he leaves.