Welcome to the Judge Dredd Wiki

This Wiki is a collection of information relating to the Judge Dredd universe depicted in the various publications released by 2000 AD and the subsequent film adaptations. Largely focusing on the titular character, Judge Dredd stories are set in a post-atomic apocalyptic future where large populations of humanity reside in "megacities" where most human tasks are completed by automated machines, unemployment and overcrowding are commonplace, and crime is endemic. The only thing that stands between the citizens and the various forces that threaten them are the elite forces who are the police, jury, and executioners known as the Judges. Since this wikia mainly focuses on Judge Dredd himself, check out our Sister Wiki, the 2000 AD Wikia for more information on the universe of Mega City One itself. Happy editing!
All pages can be edited and you are welcome to join us and contribute to this wiki!


Dredd Trailer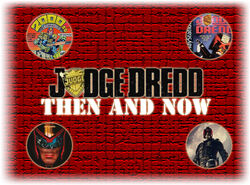 From 2000 AD to Dredd 3D, User LexiLexi explores the long history of Judge Dredd, tracing the "law-man" through the "Megazine" and video games. The blog entry is a great read for those new to the Dredd franchise and those wishing to refresh their memories before the upcoming release of Dredd.
For people who have seen the new movie...
Answer more questions at the Poll Archive