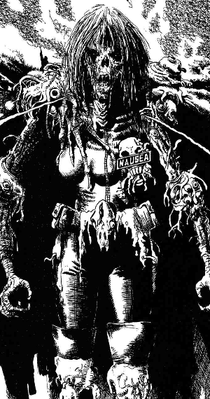 Nausea is an associate of the Dark Judges who was introduced in the Necropolis storyline, along with her sister Phobia.
Nausea is a haglike, decayed humanoid with an assortment of gory tentacles and claws and eyeballs on her right shoulder and elbows. Her left shoulder has two apparently live human heads on it. Her badge is a human skull, much like Death's. Both she and her sister Phobia have supernatural and psychic powers, including the power to increase decay and darken the sun in areas. As spectral beings, they cannot be physically damaged and need only a psychic anchor in Mega-City One to attack.
Community content is available under
CC-BY-SA
unless otherwise noted.