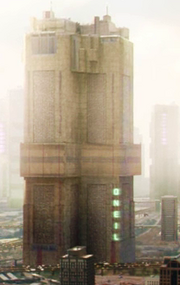 O'Neil Block is a large block arcology in Sector 13 of Mega-City One which featured in the 2012 film Dredd.
Role in Dredd
[
]
It is nearby to both Peachtree Block and Ezquerra Block.
Naming
[
]
The block was named after Kevin O'Neill, artist and former art-editor for 2000AD, who worked extensively with Pat Mills on Nemesis the Warlock, Metalzoic and Marshall Law.
On the 2000AD forum, Writer/Producer Alex Garland stated they had misspelled O'Neill's surname in the film:
"Apart from Peach Trees and Sternhammer, most of the block names are named after artists and writers of 2000AD, one with a horrifically embarrassing typo."
"Question two : Did you add the 's' onto the end of Peach Tree on purpose?
...no, I just misremembered Peach Trees.  And I also misspelled O'Neill's name on his block, which I'm just completely confused and mortified about."