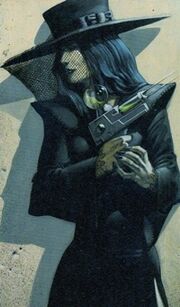 Oola Blint
 is the so-called "
Angel of Mercy
" and a character in 2000 AD.
Biography
Edit
She was a seemingly pleasant and well adjusted resident of Mega-City One who, over a period of several years and most often with the assistance of her weak willed husband Homer Blint, carried out a killing spree which would have put the most notorious serial killers in history to shame, with their preferred method being to incapacitate their victims with gas before administering a lethal injection. Her actions were seemingly motivated by a genuine belief that she was performing acts of mercy by freeing people from the madness of the Mega City, and when her husband discovered what she was doing, she was able to convince him of this, too. Oola operated in secret for several years without being discovered by Justice Department, but her crimes were eventually traced back to her by Judge Dredd; Oola and Homer, however, escaped capture and fled to Brit-Cit. There, they opened up a perfecly legal euthenasia clinic, but Oola found that killing people gave her no satisfaction if they actually wanted to die, and so began murdering people again. This caused Homer to see through her deluded self justification for her actions (Oola actually killed because she liked killing) and he informed on her, almost falling victim to her himself as a result when Oola gave him a lethal injection. Homer was saved by Dredd, after which Oola gave herself up to him without any further resistance. Oola and Homer were returned to Mega City One and incarcerated for life for their crimes. They were placed in adjoining cubes, but Oola refused to speak to Homer for his betrayal. Several years later, author Amis Barnes tried to interview Oola about Dredd, but she threatened to kill him, her mental state having apparently deteriorated even further since her capture.
Oola Blint was created by John Wagner and Greg Staples in 2000AD 1050.
Community content is available under
CC-BY-SA
unless otherwise noted.