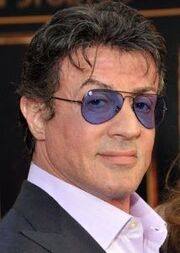 Michael Sylvester Sly Gardenzio Stallone
(born in New York City on 6 July, 1946) is an American Male actor.
He is known for portraying the characters Rocky Balboa and soldier John Rambo in several films. He starred as the titular character in the 1995 film Judge Dredd to negative acclaim. Stallone's big-name box office draw saved the domestic box office disappointment of Judge Dredd, which cost almost $100 million and barely made back its budget, grossing only $113 million worldwide. A sequel was not considered and it was 17 years before the series was rebooted with 2012's Dredd.