The Joker

Biographical information

Gender
Male
Family
Unknown
Postion
Gotham City criminal
Affiliation
Dark Judges
Alignment
Unknown
Status
Incarcerated in Gotham
Cause
Batman

Behind the Scenes

First Appearance
Unknown
Latest Appearance
Unknown
Portrayed by
Unknown
The Joker is a DC Comics supervillain and the arch nemesis of Batman. He was first introduced in Batman #1 (Spring 1940). The Joker is a master criminal with a clown-like appearance. Initially portrayed as a violent sociopath who murders people for his own amusement, the Joker later in the 1940s began to be written as a goofy trickster-thief. That characterization continued through the late-1950s and 1960s before the character became again depicted as a vicious, calculating, psychopathic killer.
Appearance
Edit
The Joker is a thin and tall individual with white bleached skin, green hair and a permanent sadists smile. As a Dark Judge he gained large glam rock style armour and his hair went white with a red taint.
Personality
Edit
The Joker is down and out insane, with a blatant disregard for any human life - he happily kills and maims as he pleases.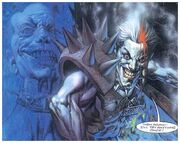 He features as one of the two main antagonists in Die Laughing where The Joker finds a way to transport to Mega-City One and unleashes a quartet of dire and deadly versions of the Dark Judges and gains a taste of immortality in the process, becoming a new Dark Judge, as well as some deadly new powers. Judge Anderson, a telepathic ally of Judge Dredd's, teleports to Batman for help and to learn about The Joker. Batman then travels back with her to Mega-City One to foil The Joker's plans, however after getting bored of Mega City he decides to return to Gotham City, however when he does so, his newfound powers all disappear and he is sent back to Arkham.
Community content is available under
CC-BY-SA
unless otherwise noted.