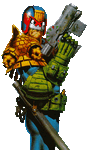 Judge Dredd is a fictional character, first featured in the comic book series 2000 AD and soon to be the main character in a film, Dredd 3D. His true name is Joseph Dredd and he is a faceless "judge" who wipes out injustices and evil in his home city, Mega-City One.

He is a clone of his brother Rico Dredd, and was cloned in 2066 at the age of five. The two brothers studied law and justice together, but Rico was imprisoned by Dredd for twenty years, after he became involved in criminal activity. In the comic books, Judge Dredd is over seventy years old but in the films he seems to be in his thirties or younger. He has suffered many injuries on the job while fighting evil, and in the comics is currently suffering from cancer. As a Judge, he is not allowed to fall in love or create a family of his own.

Judge Dredd first appeared in a comic book series called 2000 AD. Pat Mills began developing 2000 AD in 1976, and the characters were developed by John Wagner, who was responsible for the concept of keeping Judge Dredd's face concealed (he believes that since justice has no soul or face, neither should Judge Dredd).

The first issue of 2000 AD was published in February 1977. Although Judge Dredd was not originally the main character of the comic, he became more popular after the "Robot Wars" issues, in the 1980s, and later became the main focus.

One interesting fact about the comic is that it does not permit Judge Dredd to stay the same age. Currently, the year in the comics is 2134 and Judge Dredd is well into his seventies, and has cancer. It is not clear when the comic books will end.

Judge Dredd Megazine is a British publication starring Judge Dredd that has been in publication since 1990. The magazine features a number of stories, some stand-alone, some ongoing. Often, the magazine involves interviews and articles with comic book writers and illustrators. This publication is not as popular as 2000 AD, but it does incorporate some material from 2000 AD--some reprinted material is included with each issue of Judge Dredd Megazine.

In 1995, the film Judge Dredd was released. Actor Sylvester Stallone portrayed Judge Dredd. The film received mostly negative reviews. It was only loosely based on the comics, as Judge Dredd actually winds up removing his hemlet several times. In the comics, it is very important that his face is never seen. In addition, the movie also presented a love interested between Judge Dredd and Judge Hershey, which could never have happened in the comics due to the Judges' rules about dating.


Several video games have been produced, based on Judge Dredd. In 1995, Probe Software released a video game based on the film, Judge Dredd. A pinball machine was released by Bally, based on the same film. In 1997, an arcade shooter game was released.

In 2003, Judge Dredd: Dredd vs. Death was released by Sierra Entertainment, for PC, PlayStation 2, Xbox and Nintendo GameCube. It is a first-person shooter game, where the user takes control of Judge Dredd during a time when vampires have overrun Mega-City One. There are also variations in which the player can compete against friends.

In 2012, Judge Dredd vs. Zombies, a mobile game app, was released. This year, another Judge Dredd game will come out, released by Tin Man Games.

A new Judge Dredd film called Dredd will be released on September 7, 2012 in the United Kingdom, and on September 21, 2012 worldwide. It will be directed by Pete Travis and produced by Alex Garland, Andrew MacDonald, and Allon Reich. It will star Karl Urban as Judge Dredd, Olivia Thirlby as Judge Anderson, Wood Harris as Kay, and Leana Headey as Ma-Ma.
 
In this film, Mega City One is infected with a drug epidemic known as "Slo-Mo" that makes its users experience reality in slow motion. Meanwhile, Judge Dredd has to evaluate Cassandra Anderson, a rookie judge who has psychic powers due to a genetic mutation. Their duty leads them to a 200-story vertical slum led by Ma-Ma, prostitute turned drug lord. It will be a relentless battle between Ma-Ma's clan and the Judges...a battle between evil and justice.
Community content is available under
CC-BY-SA
unless otherwise noted.